On
Yelp Businesses: Deleted vs De-Indexed
There is a lot of controversy over whether or not a review or a business listing can be deleted from Yelp. I've been working with small business owners tortured by Yelp since 2008 so I've heard it all, the good, the bad, the ugly, and outright felonies. The truth is, there are tools that 100% do work, legally, AND, that said, still might not be able to get that pesky 1 star removed. How do I know? Because I've written 1 star reviews (trust me, you know me, if I give a biz a 1 star they earned it – like the preschool that frequently let my toddler poop in his pants and left it there all day) that were impossible to take down. But that's an art. Equally so is the art of removal requests.
A quick Google search shows a lot of folks getting in on the action! And the fees these sites charge are OUTRAGEOUS!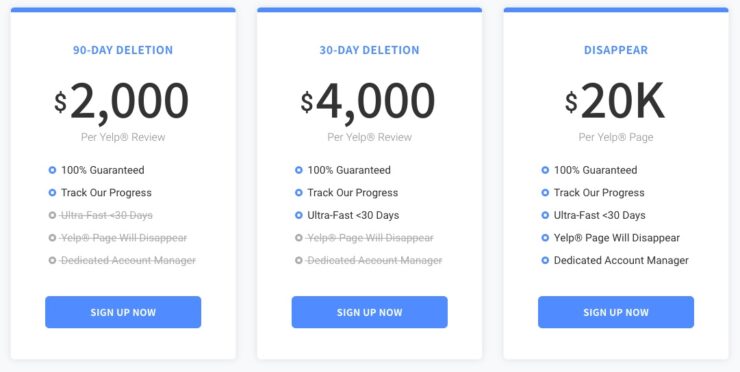 Based on the above you can see how an annual subscription for $2400 to dispute as many reviews as you need on all the major platforms would be a much better option.
But what if you really truly just want to remove the whole listing? What if, like many who have responded and discussed their issues on this site, you are a freakin' rock star on every other platform but Yelp? And they just need to go away. Is that possible? Yes and no. Let me explain.
Simply put, there is no way to remove your business listing from Yelp through their user interface, it's simply not an option because users who want to post a review generate a new business listing if one is not found, and while you can claim the listing and manage it in some ways, business owners have limited power over their profile. We have had reports of users successfully deleting their listings, but this was not from the front end, so you can't do it yourself. And while this option is a hail mary for some, it does not stop a vexatious customer from simply posting a new bad review and generating a new listing, with only one bad review.
And what's worse, Businesses can't sue Yelp to get defamatory reviews removed anymore, California's Supreme Court has ruled. The decision overturns a lower court's ruling against Yelp, affirming rules that shield internet platforms from legal liability over users' posts. That Section 230 exemption should be put to the test a few more times as Yelp's updated Terms of Service read an awful lot like a Publisher, not a Platform, in their editorial capability.
De-indexing is the general method employed by most reputation companies. It's effective because the listing is still there but you can't search for it on Yelp or Google or anywhere. Only if you have the direct link is it visible. Why would anyone prefer this? Because it doesn't tip off the negative reviewer that it's invisible now. And when dealing with a crazy customer, that's a good thing!
So does it work? Again, yes and no. I've heard from dozens of you that have paid $20K and while the listing went down for a hot minute, it didn't stay down. The business owners who have had ongoing success pay a small amount monthly to ensure it goes down and stays down. I recently heard from a Doctor that was nearly put out of business by a crazy patient who had all her friends gang up on him and post negative reviews. This is exactly the type of situation where you just need the whole listing invisible. The perpetrator of the attack doesn't realize they've been stymied and the victim can stem the bleeding. While I'm always a big proponent of organic and authentic reputation, I do understand that there are times when drastic measures are needed.

Click here request help.
So what should you do?
Google reviews not only assist your business in ranking higher in Google searches, but 84% of consumers trust these reviews just as much as word-of-mouth recommendations.
Plus, the golden review stars that googlers see when they find you can increase the number of people who click on your business — to go to your website — by 35%.
So besides focusing on gathering great reviews from happy customers, you can also check out this cool new tool that let's you easily dispute bad reviews using AI (who writes way better than either of us!)